Have you seen those Oval Makeup Brushes that look like tooth brush? They are definitely trending with beauty gurus. About late last year (2015), you may have noticed the 'start' of the oval brushes trend popping up in social media. One company in particular that comes to mind is 'Artis'. At first, I thought they were silly because they looked like different sized tooth brushes and would be awkward applying makeup with them. I wasn't sold immediately. Not to mention, the sets are worth about $400 USD or minimum $35 USD for each brush (small size). Umm…ok maybe when I win the lottery.
There's no doubt the Artis brushes look gorgeous and elegant. They are after all the 'Rolls-Royce' of the makeup brushes world. In fact, they were invited by the Rolls Royce Owners Club to be an official partner for their 2016 annual event, celebrating luxury and design. I mean WOW, what a great endorsement! So why wouldn't you wanna jump on that bandwagon and grab these babies?!
Well, like myself and some of you, we don't own a Rolls-Royce car and dropping $400 for a brush set means you're not eating for a month. Soooo, insert google search now. Just kidding, I didn't google search. One day I logged in to my Facebook account and saw ads of Oval Makeup Brush sets that are 10X cheaper than Artis. Ok, that caught my eye! Hey Facebook, stop tracking my online window shopping activities will ya! So anyway, I decided to grab a set to get the feel of the brushes and see if they're worth all the hype. And yes, they are dupes, and like most dupes you won't get the full 100% benefit of the original version. But it's a great option for trying out the latest trend in the beauty world without breaking the bank.
My oval brushes were purchased thru a company called 'My Makeup Brush Set'. They were individually wrapped in plastic and placed inside a black pouch. I decided to get 2 colors, 1 in Black & Gold and the other in Rose Gold. I originally thought I would love the 'Midas Touch' (rose gold) over the Black & Gold ones, coz they looked a lot more elegant from the pictures posted online. In person however, the Black & Gold are way better, the handles were made with rubber and gold plated metal making them look fancier. The Midas Touch is more of like a light copper shade and the handles are made with plastic. They're still beautiful, but not as gold in color as they looked in picture. Each set comes with 10 different brushes, and are made from synthetic hair. The great thing about a synthetic brush is that it doesn't have a cuticle, no pores, meaning it won't absorb the products. They work well with liquids and creams to give you fuller coverage.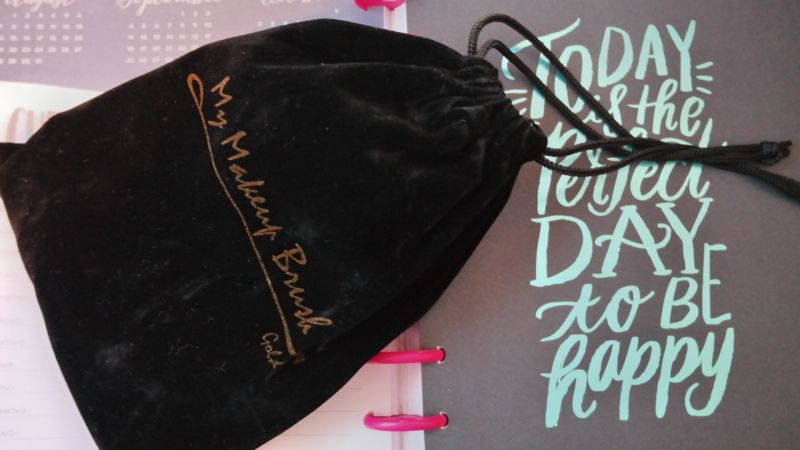 They are super soft, blends well and the variety of sizes are great to use for different areas of the face. The overall esthetic look is beautiful, although I wish they had more variety of colors in metal plated handles and not in plastic. For the budget cautious diva wanting to get their hands on oval brushes, these are definitely worth it. If $39.99 is still too much for you, well guess what, there's a 5 Piece Rose Gold Brush Set option for just $15. You can start there and work your magic. Practice makes perfect, and I know one day you'll get your own Rolls-Royce.
**Giveaway Closed**

Now for the fun part.
I'm going to giveaway the Rose Gold brush set (shown below) to one of you lovely readers out there. It's brand new, never been used, and just received that color in the mail this week. At this time, the giveaway is open to US and Canada residents only. Giveaway starts now and ends September 15, 2016. The winner will be announced on September 16, noon PST via Instagram (giveaway pic post), Twitter, Facebook and direct email.

Any of you own Artis brushes or the dupes? How are you liking it? Comment down below, I'd love to hear your experience.